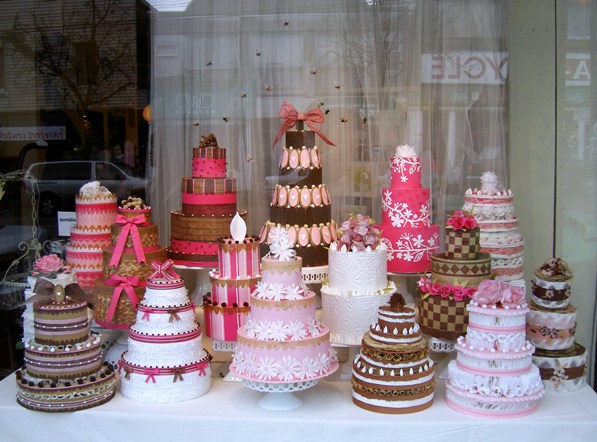 「Front and Company」のショーウィンドウの写真を撮った。そのお店では男女用の古着、アクセサリー、ギフト、バッグ等を売っている。ここはアクセサリーが良い。妹は夏らしい貝のイヤリングとお揃いのブレスレットを購入。
I took a picture of the show window of "Front and company". The shop sells consigment clothes for men and women, accessories, gifts, and bags. The accessories are good here. My sister bought a pair of shell earrings and a matched bracelet which looked very summery.
このお店では自分の古着を売ることが出き、売値の40%が取り分になる。
The shop can sell your own old clothes and 40% of the sales price will be yours.
このお店はいつも素敵なショーウィンドウで、今回は何種類ものウェディング・ケーキがとってもかわいい。全部紙で出来てるし。ケーキの周りに蜂が飛び回ってるのが見える?この写真を撮った後、写真を撮るなと言われた。アーティストの権利とかかなってハニーは言ってたけど、次回も撮っちゃうべき?
The shop always has nice show windows and this time, the many kinds of wedding cakes were really pretty. Everything is made out of paper. Can you see the bees flying around the cakes? After I took a picture I was told NOT to take pictures. My honey said maybe it was due to artists' right or something, but should I take another picture next time?
Front and Company
3746 & 3722 Main St. (map)