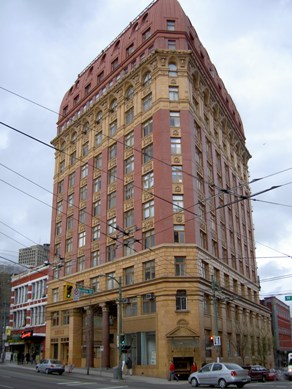 Dominion Building はバンクーバーでめっちゃカッチョいい建物の一つだと思う。1910年に建てられ、当時は大英帝国で一番高い建物だったそうな。近くにミッドセンチュリー家具のお店、Metropolitan Homeがあるんだけど、今月からこの建物の一階に引越してくるんだってさ。
We think the Domining Building is one of the coolest buildings in Vancouver. It was built in 1910 and it was the tallest building in the British Empire at the time. There's a mid century furniture shop, Metropolitan Home nearby and the shop is going to move into the ground floor of the building this month.
今日は7時に出社して、一日中いろんな所に行かなければならなかった。ごっついグロッキー。明日は友達とビクトリアに行く。自転車で行くことになってるが雨が降りそうなので車で行くかも。では皆様良い週末を!
I went to the office at 7am and I had to go to many places all day today. I am feeling so groggy. I am going to Victoria tomorrow with friends. We are going to cycle there but it looks like it's going to rain so we might just take a car. Have a good weekend, everybody!