過去にハ二−は週に一度料理することをやってみたが、長続きしなかった。で、今回は1週間まるごと料理することを試みた。
In the past, my honey tried cooking once a week but it didn't last long. Then this time, he tried cooking for a whole week.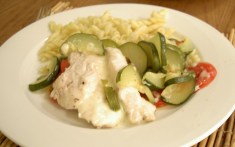 月曜日:ズッキーニ、トマト、チーズと一緒にホイル焼きしたチキン。それと、パスタ。
Monday: Baked chicken in foil with courgett/zucchini, tomato, and melted cheese. And pasta.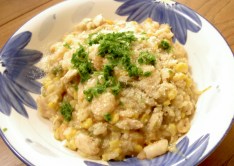 火曜日:チキンとエビのリゾット。玉ねぎ、ピーマン、ローストピーナッツも入ってた。これバリうまやった。
Tuesday: Chicken and shrimp risotto. Onions, peppers and roasted peanuts are in it too. This risotto was really yummy.

水曜日:外出する。
Wednesday: We went out.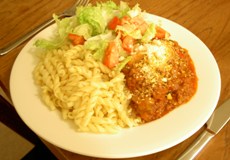 木曜日:ミートソースパスタとサラダ。
Thursday: Pasta with Bolognese sauce and salad.

金曜日:ポークのグリル焼きとピーナッツライス。すいません、写真なし。
Friday: Grilled pork with peanuts rice. Sorry no photo.
土曜日:外出する。
Saturday: We went out.
日曜日:ハ二−はアイスホッケーのため、私と妹が作る。
Sunday: Since my honey went to play ice hockey, my sister and I cooked.
この1週間料理するアイデアは最高。ハ二−ありがとう!次回も楽しみにしてまっさ!
This one week cooking idea is great. Thank you, honey! I'm looking forward to the next time!