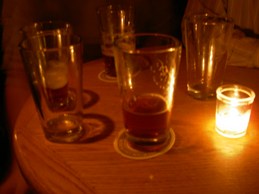 イースター休暇(4連休!)の前夜にパブ・クロールしようと先週決めた。ウィキペディアによると、パブ・クロールとはグループで一夜のうちにパブを何軒もはしごすることとある。パブの国、イギリスでは「ロンドン地下鉄パブ・クロール」というのがある。地下鉄環状線の各駅で、駅から一番近いパブで飲む。20駅あれば、20杯飲むことになる。日本に帰ったら、大阪の環状線でやってみないと♪
Last week, we decided to do a pub crawl on the night before the Easter holiday (4 days off!). According to Wikipedia, pub crawl is the act of visiting and drinking alcohol at a number of pubs in a single night with a group of friends. In the pub country, Britain, there's "the London underground pub crawl". You drink at a pub closest to each of the stops on the Circle Line. If you have 20 stops you will drink 20 pints. When I go back to Japan, I should try this with the Circle line in Osaka♪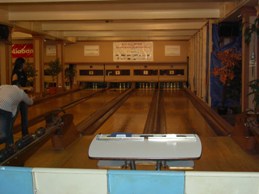 私達5人はLennox pubに6時に集合し、初めの1杯をスタート。2杯目はRaileway Clubで。なかなか居心地の良い、雰囲気の良いパブだった。ご飯を食べにGastownの私のお気に入りにパブ、Steamworksに行った。ここでは地ビールがあって、ご飯も結構ウマい。おいしいビールとハンバーガーを食べた後、ダウンタウンにまた戻る。5ピンボーリングが出来るCommodore Lane、Commodore roomの下に行く。ちょっと覗いて出た。
5 of us gathered at the Lennox pub at 6 and started our first pint. Next pint was at the Railway Club. It's a very cozy pub and had nice atmosphere. We needed to eat and we headed to the Steamworks, my favorite pub in Gastown. They make their own beer and food is pretty decent. After filling ourselves with delicious beer and burger, we headed back to down town again. We went to the Commodore Lane, downstairs of the Commodore room, where you can play 5 pin bowling. We had a look around and left.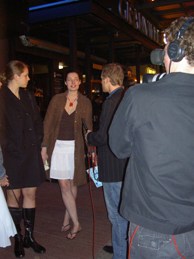 Granville Streetは人が一杯で、かわい子ちゃんはインタビューされてた。アイリッシュパブ、Doolinsに行くがめちゃ混み。そこを出て、Speakeasyに入る。ティーンエイジャーっぽい子達で賑わってる、ビールはあんまりおいしくなかった。次はまたアイリッシュパブのMorrissey。このパブは同年代の人達でいっぱいだった。テーブルをどうにか見つけ、飲み続ける。最後のパブはInferno Bar and Grillで、まぁまぁ。最後の1杯を飲み終えたころは午前1時だった。チドリ〜足で家に帰る。結局、パブ6軒はしごした。何杯飲んだかは謎!
Granville street was filled with lots of people and pretty ones were being interviewed. We went into an Irish pub, Doolins but it was packed. We left the pub and went into the Speakeasy. Lots of teenager-looking people were there and beer wasn't so good. Next pub was another Irish pub, the Morrissey. This pub was packed with people like our age. We managed to find a table and continued drinking. The last pub was the Inferno Bar and Grill, which was an okay pub. By the time we finished our last pints, the time was 1 am. We went home at a crawl. In the end, we went to 6 pubs. How many we drank is a mystery.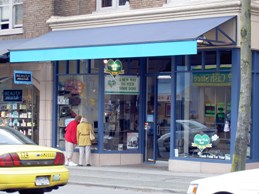 翌朝、私は大丈夫だった(なんちゅー肝臓や)けど、ハニ−は顔色灰色になってた。彼は今日は全然身動きしてなかったよ。食料を買いに一人で外に出るとDenman Streetに新しい店がオープンしてる。なんと、ワンコちゃん用のデリ(デリカッテッセン:惣菜屋っていうのかな?)だった。新鮮なワンコちゃんフードを売ってるらしい。わぉ。
I was okay next morning (what a great liver I have) but my honey was looking grey. He didn't move much today. I went outside to do grocery shopping and found a new shop was open on Denman Street. It's a deli for doggies. They sell nice fresh dog food. Wow.
The lennox pub  ☆☆☆
800 Granville St. (map)
The Railway club ☆☆☆☆
579 Dunsmuir St. (map)
Steamworks  ☆☆☆☆☆
375 Water St. (map)
Commodore Lanes. ☆☆☆☆
838 Granville St. (map)
Doolins ☆☆☆
654 Nelson St. (map)
The Speakeasy ☆☆
921 Granville St. (map)
The Morrissey ☆☆☆☆
1227 Granville St. (map)
The Inferno Bar and Grill  ☆☆
1208 Granville St. (map)