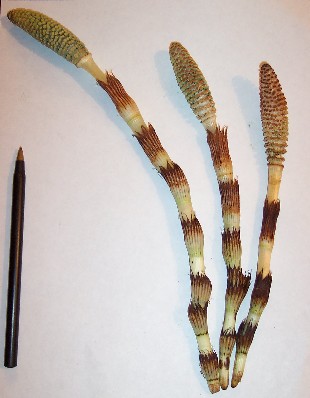 リッチモンド(バンクーバーの南)に住んでいる私の母上がつくしの写真を送ってくれた。こっちのつくしは、モンスターサイズ。ヴィクトリアで見つけたとき、カナダ人の友達にこれ日本では食べるんよと教えると、「じゃ、今食べてくれ!」。料理しないと食べれません。うちの母上は大抵、佃煮にして食べさせてくれました。このつくしはでかすぎてまずいので、母上は料理しないそうです。
My mother who lives in Richmond (South of Vancouver) sent me the photo of Tsukushi. Tsukushis here are monster size. We found Tsukushi in Victoria as well and I told my friends that we eat it in Japan. They said, "Eat it now!". You have to cook Tsukushi. My mother often makes Tsukudani (boil with soy sauce, sugar, sake) with Tsukushi. These Tsukushis are too big which normally have bad taste. So my mother is not going to cook these.
つくしは漢字で土筆。土の筆とはかわいい。英語ではHorsetail、馬のしっぽとはこれまたかわいい。
Tsukushi in kanji is "pen of soil". pretty name. In English, Tsukushi is "Horsetail", pretty name as well.