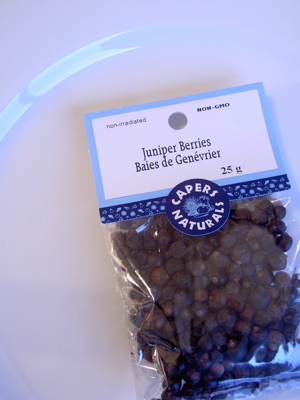 クリスマスディナーのレシピは夫の妹がタイプして送ってくれました(レシピはこちら)。ですので、夫の家族と私の家族のクリスマスディナーは同じでした。買い物リストを作って、夫が買出しに行ってきてくれました。イギリスでは簡単に手に入る食材が、こちらでは見つけるのが困難な物もあったそうです。ジュニパーベリーズ↑(スパイス)、チコリー(野菜)、ブリオッシュ(パン)が見つかった時は電話がかかってきました。
My husband's sister typed and forwarded us recipes for Christmas dinner (the recipe is here). So my husband's family's and our family's dinner were the same. I made a shopping list and my husband went for shopping for the dinner. Some of the ingredients which are easy to find in Britain were difficult to find here. My husband rang me when he found Juniper burries↑ (spice), chicories (vegetable), and brioches (bread).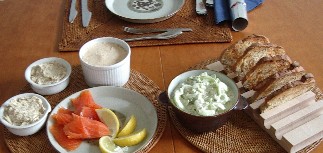 これ↑は義妹が作った、前菜。3種類の魚のパテです。私はイブの日に作って、K夫婦のディナーに持っていきました。我が家のクリスマスディナーの前菜はスモークサーモンと母がスティーブストンで買ってきてくれた、甘エビでした↓。
This ↑was the starter that my sister in law made, some kind of fish pate. I made this on Christmas eve and brought it to Mr. & Mrs. K's dinner. Our starter for Christmas dinner was smoked salmon and sweet prawn which my mum bought in Steveston↓.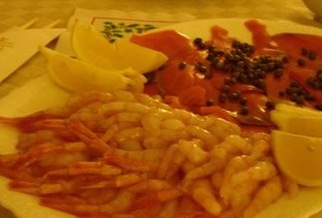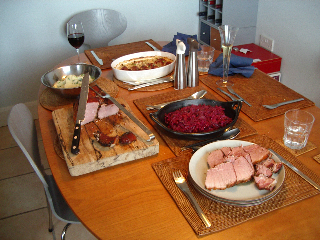 そしてメイン(↑夫の両親宅、我が家↓)はローストハム。24時間色々なスパイスでマリネして、3時間色々な野菜と一緒に煮て、45分ローストしました。ジュニパーベリーズ、コリアンダーシード、フェンネルシード、八角、クローブのスパイスがよく調和していました。準備の時間はかかりましたが、手間はあまりかかりませんでした(これも義妹の良いレシピ選択のおかげです)。付け合わせに、チコリーのクリーム煮、赤キャベツのクランベリー煮、コルカノンというキャベツ入りマッシュド・ポテト。
Then the main (↑at my husband's parents' house, at our house↓) was roasted ham. The ham was marinated with many kinds of spices for 24 hours, boiled with many kinds of vegetables for 3 hours, then roasted for 45 minutes. The spices such as juniper burries, coriander and fennel seeds, anise, cloves were blended very well. It took time for preparetion but not much effort (thanks for my sister in law's good selection of the recipe). The ham was served with cramy braised chicory, jewelled cranberry and red cabbage, and Colcannon which is mushed potatoes with savoy cabbage.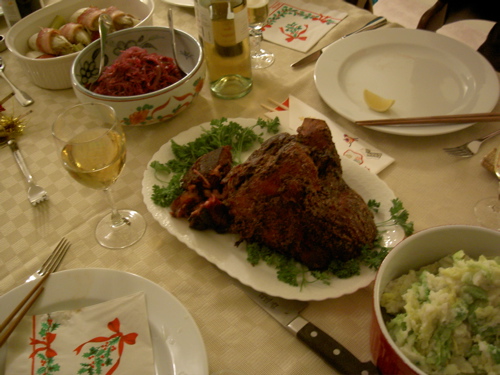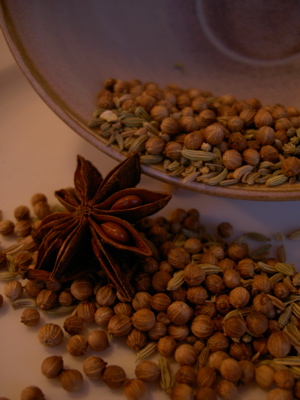 デザートは夫が作ってくれた、ブレッドアンドバタープディング。最高!
The dessert was bread and butter pudding which my husband made. It was the best!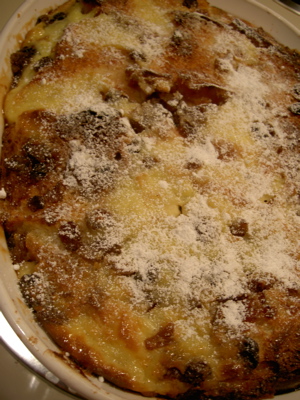 ディナーの後はK夫婦がプレゼントしてくれた、カナダ版モノポリー、カナダポリーで遊びました。弟はモノポリーするのが大好きなので、ゲームの準備も銀行役も率先してやってくれました。楽しい夜でした。
After the dinner we played Canadian version Monopoly, called Canada-poly which was a present from Mr. & Mrs. K. My brother loves to play Monopoly so he took the initiative to prepare the game and do the bank. It was a fun night.