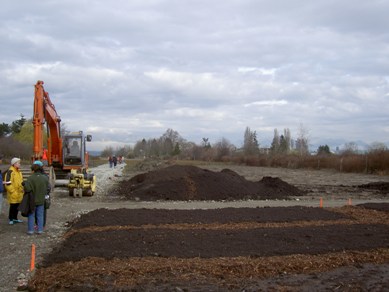 リッチモンド市から畑を借りている。賃貸料は1年間40ドル。文句のない価格でしょ?大きさは3mx7m。前の畑には2010年冬季オリンピックのためにスピードスケート用リンクが建つので、新しく作られたコミュニティガーデンへお引越し。昨日は自分の畑の場所を決めに行った。母は自分が欲しかった場所が取れたので満足してたみたい。あと2週間程で畑は農作業が出来るようになる。母は何を植えようかと興奮気味だった。
We rent a garden lot from Richmond city. Rental fee is $40 per year. You cannot complain with this price, huh? The size is 3m x 7m. Since a speed skate rink for 2010 winter Olympic is going to be built on the previous lot, lots are moved to a new community garden. Yesterday, we went there to choose an own lot. My mother was satisfied to get what she wanted. In about two weeks, the lots will be set for farming. My mother was very excited about what she was going to plant.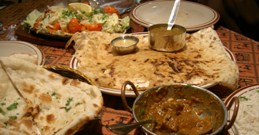 帰りに母と弟と、彼らのリクエストであったインド料理を食べにThe Quilon Restaurantへ向う。中に入るとお客さんはインド人のみ。店内にあった妖しい孔雀の置物を見て、ちょっと不安になったが、お料理は大変おいしかった。ミディアムな辛さは辛くなかったので、今度はホットで頼んでみよっと。チキンティカ(骨無しタンドリーチキン)、カレー味のハッシュドポテトがリパリクレープで包まれているドーサ、ローガン・ジョッシュというビーフカレーを頼んだ。チップを含めて$40(約3200円)だった。
On the way back, I headed to the Quilon Restaurant to have Indian cuisine which my mother and brother requested. There were only Indian customers inside. I got bit worried to see a mysterious peacock ornament inside the restaurant, but the food was really good. Medium hot wasn't so hot, so I will try hot next time. Chicken Tikka (boneless Tandori chicken), Dosa which is a crispy crepe filled with curried hushed potatoes, Beef curry called Rogan Josh. It was $40 including tips (about 3200 yen).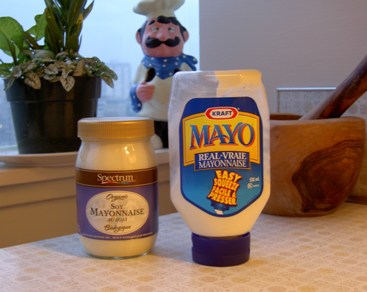 母がおいしいマヨネーズをくれた。Spectrum社のOrganic Soy Mayonnaise。アルデンテに茹でたブロッコリーと一緒に食べた。バリうま。日本のマヨネーズのような味。Kraft社のマヨネーズ、さようなら。Save on Foodの健康食品コーナーなどに置いているらしい。
My mum gave me a really tasty mayonnaise, Oganic Soy Mayonnaise from Spectrum. I had it with "Al Dente" boiled broccolis. And it was super duper tasty. It tastes like Japanese mayonnaise. Sayonara to Kraft's mayonnaise. I heard you can find it at the health food corner of Save on Foods.
The Quilon Restaurant ☆☆☆☆
6030 No. 3 Road, Richmond (map)
Parking at rear